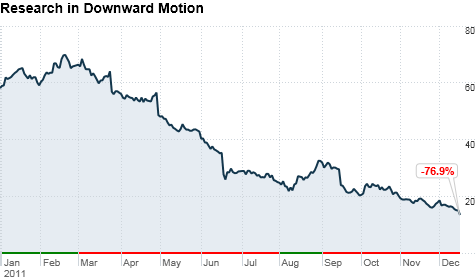 NEW YORK (CNNMoney) -- The best time to buy a stock and make a lot of money off of it is often when the company is universally hated. When so many investors think a company is doomed, it doesn't take much to move the stock higher again.
Research in Motion (
RIMM
) is probably not one of those stocks.
The BlackBerry maker is now absurdly cheap based on any conventional metric. Shares fetch less than 3 times earnings estimates for its next fiscal year. The company is trading at about a third of its expected sales.
And RIM is well below book value, the price it theoretically would be worth if it liquidated and sold off assets.
But none of that matters. For anyone who thinks RIM may be a value stock, I give you these sage words of advice from Admiral Ackbar in "Return of the Jedi": "It's a trap!"
It also announced that its new BlackBerry 10 smartphones, trumpeted as the company's savior, have been delayed until the end of 2012. That's an eon in the fast-moving consumer tech world.
That's why the stock plunged 12% Friday morning. Shares are now down 77% year-to-date and are trading at their lowest level since January 2004.
The company can't afford to be Research in Slow Motion at a time when it is facing brutal competition from Apple (
AAPL
,
Fortune 500
) and from handset makers like Samsung and HTC that have latched themselves to Google's (
GOOG
,
Fortune 500
) Android wagon. Even Nokia (
NOK
), thanks to an alliance with Microsoft (
MSFT
,
Fortune 500
), is a threat.
If you take a look at some of the analyst reports on the company following its most recent disaster, you have to wonder if it maybe should change its name and ticker to GRIM. Or DIM.
"We give management credit for an honest appraisal and outlook," wrote Cowen and Company analyst Matthew Hoffman.
That's about the most charitable thing I could find.
"We now believe that RIMM needs to adopt an existing ecosystem (Windows Phone) in order to remain a relevant player in the smartphone market," wrote Alkesh Shah with Evercore Partners.
In other words, RIM has to become the Canadian version of Nokia.
"We have modest BB 10 sales estimates," warned Canaccord Genuity analyst T. Michael Walkley.
"If management's marketing-based strategy to support sales fails, then the company may have to resort to gross margin cuts to retain relevance. Once this happens, we expect device business margins to fall to zero and possibly into negative territory," was the dire prediction from Nomura analyst Stuart Jeffrey.
If you're looking for gloomiest forecast of all, Kris Thompson at National Bank Financial in Toronto -- essentially RIM's home turf -- takes first prize.
"This could be game over for the BlackBerry franchise," Thompson wrote. "We can't be confident RIM even hits the 2012 holiday season."
For the win!