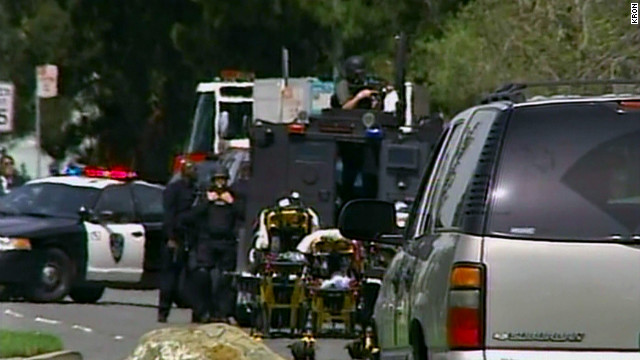 (CNN) -- Nine people were shot at a California religious college Monday, and Oakland police "believe that six have been pronounced dead," a police official said.
"We believe the suspect is in custody," Oakland Police Sgt. Christopher Bolton said. "He was arrested in a nearby city."
Highland Hospital spokeswoman Jerri Applegate told KGO-TV that five shooting victims were being treated there. She gave no information on their conditions, saying that was a police matter.
A SWAT team entered Oikos University in East Oakland to make sure no other shooters or wounded people were on the campus building, police spokeswoman Johnna Watson said.
Gunfire erupted inside the single-story building that houses the private Christian college about 10:30 a.m. (1:30 p.m. ET), according to Lucas Garcia, who was teaching an English class when it began.
Garcia told CNN affiliate KGO-TV that he counted about six gunshots from a nearby nursing classroom when he heard someone yell, "He's got a gun."
Garcia evacuated his students from the building while the gunfire continued, he said.
The college offers degrees in theology, music, nursing and Asian medicine, according to its website.
The male suspect was arrested outside a Safeway convenience store in nearby Alameda, California, San Francisco Chronicle reporter Henry Less told CNN.